Pipe Network Unit Operation
Jump to navigation
Jump to search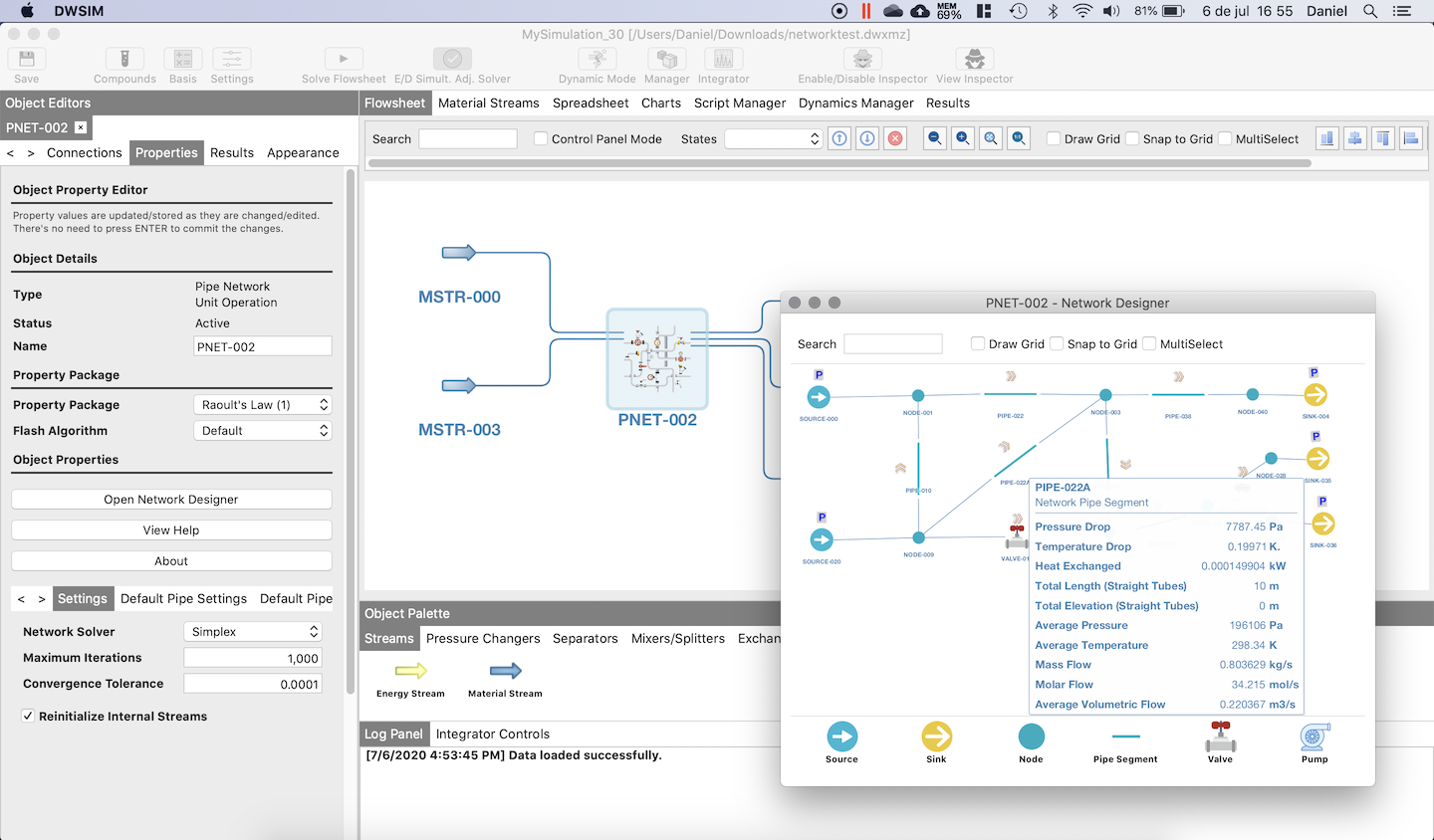 Pipe networks are structures built to transport fluids between several supply and demand points. Transmission and distribution of natural gas are examples of services provided by pipeline networks.
In fluid dynamics, pipe network analysis is the analysis of the fluid flow through a hydraulics network, containing several or many interconnected branches. The aim is to determine the flow rates and pressure drops in the individual sections of the network. This is a common problem in hydraulic design.
Model Features
The Pipe Network Unit Operation for DWSIM allows modelling and simulation of pipe networks connected through nodes with multiple sources and sinks. Rigorous compositional fluid property calculations are done by DWSIM Property Packages.
The Pipe Network Unit Operation for DWSIM has the following features:
Supports Pipe Segments with Rigorous Heat Transfer calculations, Valves, Pumps, Compressors and Gas-Liquid Separators;
Rigorous fluid properties and phase distribution calculated with DWSIM Property Packages
Fully-featured Graphical Network Designer
Supports Pressure and Mass/Molar/Volumetric Flow specification on endpoints (Sources and Sinks)
Video Demonstration
Click here to view the Pipe Network Unit Operation in action!
Download
The Pipe Network Unit Operation is available as a separate Dynamic Link Library (DLL) and requires DWSIM v6.0 Update 5 or newer to work.
Supported Operating Systems: Windows, Linux and macOS
The Free Version is limited to a maximum of 20 interconnected network objects. Download Link
The Full Version has no limitations and is available to High-Level DWSIM Patrons (Tier 2 and up). Click here to become a Patron and get this and many more benefits.
Support
If you're an user of the free version, use the Forums to get support.